Julie has been a Registered Massage Therapist reducing the aches and pains of people of all ages and states of wellness in the north end of St. Catharines since 2003.
Since graduating with honors at Canadian Therapeutic College of Massage and Hydrotherapy Program in 2003, Julie has an ongoing interest in staying current with her skills through regular continuing education.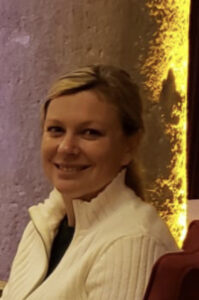 -Julie is a proud member in good standing of the College of Massage Therapists of Ontario and an active member of the Registered Massage Therapy Association of Ontario, and previously an executive member and meeting facilitator for the Niagara RMT's

professional development

group.
Some of the many continuing education certificates Julie has earned include: Walt Fritzs' 'Foundations in Myofascial release seminar for Voice, Speech and Swallowing disorders', 'TMJ Mastery with John Corry', Inside the Vagus Nerve, RockTape, Positional Release, Ultrasound and Tens, Cupping Therapy, Hot Stone Massage, Muscle Energy Technique, Acupressure.  She has also been a teaching assistant for the MFR foundations course and has an interest in continued exploring of TMJ treatments, most recently to upgrade PPE practices for best administering TMJ treatments during COVID-19. 
Hosting Couples Massage events has been a fun way to show others how to use the healing power of touch. In the community, Julie is a former board member for the Family and Children's Services Foundation, and has participated in the CIBC run for the cure and the Sporting Life 10k . Julie's experience as an Early Childhood Educator prior to becoming an RMT has given her a great foundation in providing massage treatments to children and youth.  Julie's other hobbies include walking her two dogs, reading epic novels, and dabbling in art.
Julie's art: Watercolor of Kingpin
Julie in 'paint mode'
Raising money for cancer research, and having fun!
Julie's art: (Arcrylic) beach goers
Poster-massage event
Teaching couples-massage event
Murphy and Kingpin
Ziplining
Kayaking