Fees:
The following fees include 13% HST

60 Minute Massage-$95
30 Minute Massage-$55.00
60 Minute Synergy Hot Stone Massage-$105.00
45 Minute Massage-$75

Did You Know? Many of the Services Below Can be Included in Your Massage!
The options below (except for Hot Stone) show `ingredients` that can be included as part of your regular or Hot Stone massage. Just let Julie know your goals and she can tailor a treatment just for you!
'Synergy' Hot Stone Massage
BRAND NEW To Julie's practice!: HOT STONE Massage with the addition of 'Synergy' Heat Wave Stones: These uniquely hand-crafted, contoured stones blend soothing heat with ULTRA RELAXING and THERAPEUTIC effects that reduce tension and leaving you feel 'melted'.
Julie has been doing Hot Stone Massage for 12 years and has found these unique stones, hand-crafted in Seattle, to enhance her existing Hot Stone Massage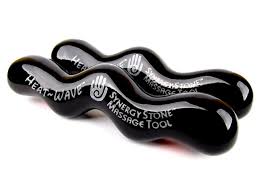 TMJ Therapy
-Sore Jaw? Headaches, Jaw clenching? TMJ? Voice or Swallowing difficulties?
-This jaw-focused massage treatment reduces tension in areas around the jaw -including neck, shoulders, face, scalp and cheeks and also addresses muscles from inside the mouth (I wear gloves for this), helping ease chronic or acute pain from TMJ. Please click on 'TMJ basics' to learn more about TMJ and how massage can help.
Julie's most recent training is in addressing voice, speech and swallowing problems using myofascial release, a subtle and gentle technique. In these sessions your continual feedback helps guide where and how treatment is focused, which is typically done on the abdominal area, chest/sternum, neck, jaw (inner and outer) and head. Ideally this takes three 1 hour treatments for lasting results.

Therapeutic Ultrasound
-A device for reducing swelling and pain and to promote healing
-Ultrasound unit is a non invasive form of therapy used for about 10 minutes over the affected area.
-It is a method of stimulating the tissue beneath the skin's surface using high frequency sound waves.
Relaxation Massage/ Head and Scalp Massage
Stressed? Just need a quiet, gentle massage?
Massage reduces stress hormones and anxiety and stimulates the brain to produce endorphins. Besides, it just feels nice! A lighter, deeply relaxing treatment, and if you'd like the focus on the head and scalp this is a tremendously relaxing and therapeutic option.
Deep Tissue Massage
This transformative style of massage dissolves knots, frees impingements and reduces your pain. I locate muscular issues and do specific work to correct them. Deep work should feel effective but not painful, so I will solicit your feedback to determine the optimal pressure for you. You'll enjoy a lasting effect of greater ease in your body.
Acupressure Therapy
Acupressure is an alternative medicine technique similar in principle to acupuncture. It is based on the concept of life energy 'Qi' which flows through the 'Meridians' of the body.
In treatment, physical pressure is applied aimed at clearing 'blockages' in these energy flows using a hand-held device.
Prenatal Massage
-Julie has many years of experience with helping moms-to be have a more comfortable, pleasant pregnancy.
-Benefits both mother AND child by reducing stress hormones in mom which affect baby during pregnancy.
-Unique 'Body Cushion System' (see photo below) allows for face down or side-lying position.
-Helps relieve back pain, calf cramps, swelling and other pregnancy discomforts.

Muscle Energy
-Many athletes use MET as a preventative measure to guard against muscle and joint injury.
-beneficial for those who have limited range of motion or chronic muscle pain, stiffness or injury.
-It is a manual therapy and uses gentle muscle contractions of the patient to relax and lengthen muscles and normalize joint motion.
-It is considered an active technique, where the client and therapist work together.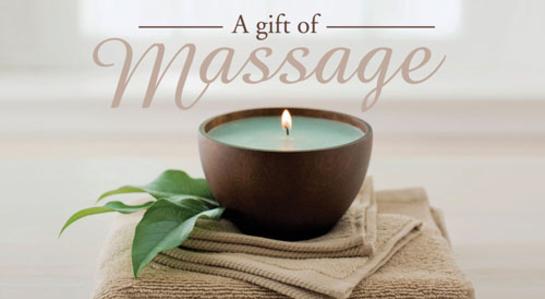 Show them you care with the gift of massage! Order online or call to arrange pick up on site. Gift cards are professionally designed cardstock.